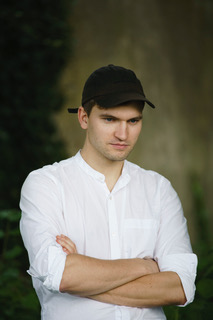 Thomas Köck was born in 1986 in Wolfern, Upper Austria. He was socialised through music and studied philosophy and literary theory in Vienna and at the Free University of Berlin, as well as scenic writing and film at the Berlin University of Arts. He worked at theatercombinat wien, was invited to the Berlinale Talents with a documentary film project about Beirut, blogs with colleagues on nazisundgoldmund.net against the right, develops concert readymades with Andreas Spechtl under the label ghostdance and occasionally stages his own texts at Schauspiel Stuttgart, Thalia Theater or UNAM Teatro in Mexico City. He has received several awards for his theatre texts, some of which are also published as books by Suhrkamp Verlag and have been translated into 15 languages to date, most recently the Mülheim Dramatists' Prize in 2018 and 2019 and the Radio Play Prize of the War Blind in 2021. He is currently living in Istanbul at the invitation of the Tarabya Cultural Academy.
Thomas Köck is part of the EU-Projekt Fabulamundi – Playwriting Europe. Beyond Borders?.
He wrote "two steps forward and three steps back. eine gesammelte spitzenpolitische rücktrittserklärung" for the Austria feature at the Leipzig Book Fair Weltsprache Provinz – vom Leben und Sterben in einem zentraluropäischen failed state.