Fabulamundi Playwriting Europe: New Voices
"New Voices" is the new edition of the successful European cooperation project Fabulamundi – Playwriting Europe. As an Austrian partner in the three-year EU project, we will be working with 13 partner organisations from 9 countries to promote young playwrights from 2023 to 2025.
The project goals and project activities at a glance:
– Support the creation of new texts for the stage with a focus on plays for young audiences.
– Promoting translations and exchange between participating playwrights, tutors and theatres.
– Presence and visibility of young Austrian playwrights for a large European theatre community through public presentations of the projects in digital formats as well as through performances, readings and publications.
– Creative writing workshops at schools, universities and theatres, including so-called "twinned workshops", in which authors from two different countries jointly develop teaching concepts.
– Peer to peer learning sessions for playwrights and organisations
– 3 main topics: Environment and sustainability, gender balance, digitalisation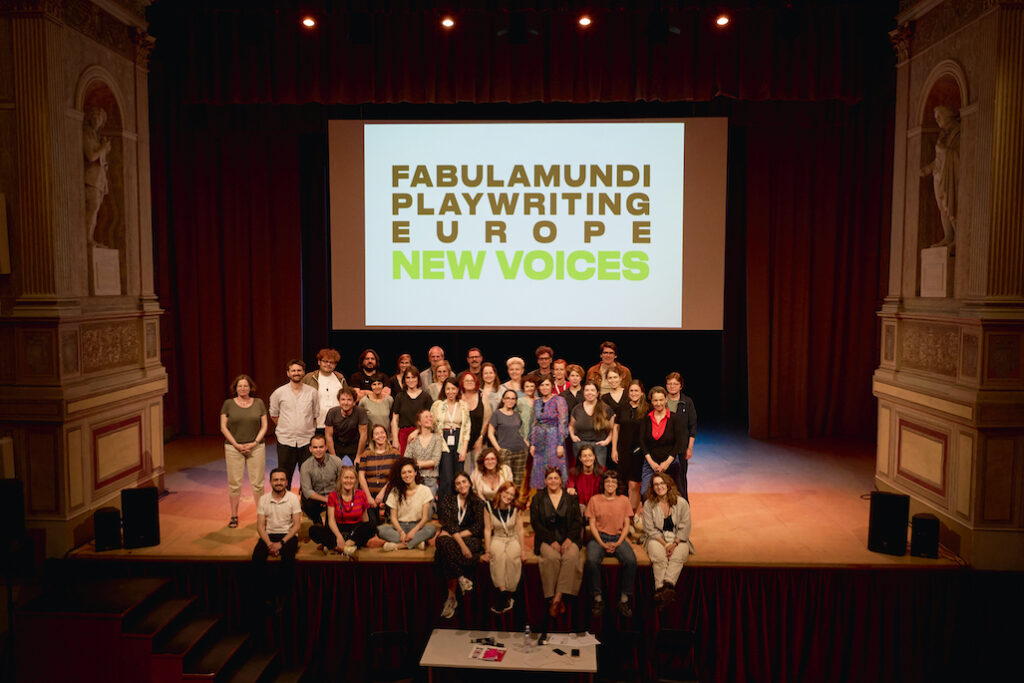 Foto: Hector Manchega
FAB-Community
New Voices offers 66 creative and dramatic writing workshops led by 19 European playwrights from the so-called FAB community. The playwrights will travel across Europe in a partnership programme, meet other colleagues and teams thanks to the Cross the Map programme, and share insights and thoughts about playwriting in the video series In a New Light.
Across disciplines, the FAB community offers a wide range of workshops developed locally in each partner country and extended internationally thanks to a mobility programme with partnerships. A second guest playwright is invited to all workshops to collaborate, encouraging dialogue and enriching debate and exchange. The 19 playwrights will mentor a wide audience of young people who are invited to participate in the project. At the same time, they will be mentored by a group of international experts in a professional training programme specifically designed to enhance their artistic development and raise their awareness of the core issues: Gender and inclusion, green theatre and digitalisation.
The FAB community authors are:
Alexandra Koch
Bernhard Studlar
Magdalena Barile
Nathalie Fillion
Eva Geatti
David Košťák
Patrik Lazić
Mihaela Michailov
Ewa Mikuła
Oriol Morales i Pujolar
Constance de Saint Remy
Roberto Scarpetti
Kateřina Součková
Biljana Srbljanović
Helena Tornero
Anna Wakulik
Elise Wilk
Stefan Wipplinger
Ingeborg Von Zadow
Fabulamundi New Voices: Playwrights Dossier
Project partners:
PAV (IT)
ASSOCIAZIONE CULTURALE AREA06 IT (IT)
ITZ – INTERKULTURELLES THEATERZENTRUM BERLIN E.V. (DE)
EUROPEAN THEATRE CONVENTION EV (DE)
THEATRE OUVERT (FR)
LA MOUSSON D'ÈTÈ (FR)
SALA BECKETT (ES)
TEATRUL ODEON (RO)
UNIVERSITATEA DE ARTE TARGU MURES (RO)
WIENER WORTSTATTEN (AT)
CULTURE ACTION EUROPE (BE)
DIVADLO LETI Z.S. (CZ)
HARTEFAKT FOND FONDACIJA (RS)
Associated partners:
FONDAZIONE PICCOLO TEATRO MILANO-TEATRO D'EUROPA (IT)
FONDAZIONE SCUOLE CIVICHE DI MILANO (IT)
APS AMLETA (IT)
ERT – EMILIA ROMAGNA TEATRO FONDAZIONE (IT)
ASSOCIAZIONE SANTACRISTINA CENTRO TEATRALE (IT)
ASSOCIAZIONE TEATRO DI ROMA (IT)
ECCOM (IT)
TEATRO LIBERO PALERMO ONLUS (IT)
ARTCENA (FR)
GEISSLERS HOFCOMOEDIANTEN Z.S. (CZ)
TEATRUL ARIEL (RO)
ARTinTRANSLATION (PL)