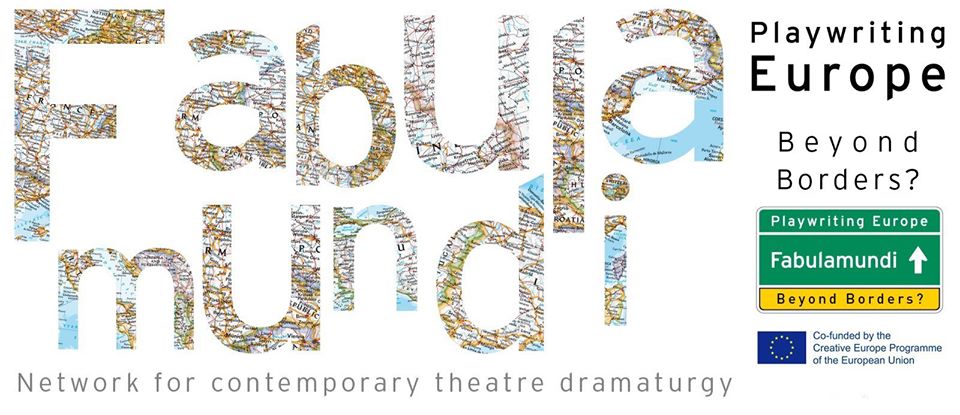 Germany, England, Italy, Romania, Czech Republic, France, Poland, Spain. These are not our next travel destinations, but the countries with which we are cooperating within the framework of the EU project "Fabulamundi – Playwriting Europe" in the years 2017 – 2020.
This so-called "large scale" project under the leadership of PAV (Italy) involves 15 partners from 10 countries:
WIENER WORTSTAETTEN (AT), Culture Action Europe (BE), Theatre Letí (CZ), La mousson d'été & Théâtre Ouvert (FR), Interkulturelles Theaterzentrum Berlin (DE), PAV, AREA06/Short Theatre & Teatro i (IT), Teatr Dramatyczny Warszawy (PL), Teatrul National Targu-Mures & Teatrul Odeon (RO), Sala Beckett (ES), Creative Skillset & Performing Arts Network PANDA & Gate Theatre London (GB).
The WIENER WORTSTAETTEN represent Austria and cooperate with Slovak Theatre Institute as an associated partner of the project.
Together with our European partners, we are establishing a network for contemporary drama. The exchange of playwrights, translations of their plays, productions, readings, workshops and and make "Fabulamundi – Playwriting Europe: Beyond Borders? " one of the largest funding projects for playwrights in Europe, in which more than 100 authors will participate.
In addition to creating a network and thus internationalising European playwrights and playwrights living in Europe, "Fabulamundi – Playwriting Europe" aims to foster the interplay between contemporary drama and audience development. The idea of a "European dramaturgy" is to be promoted in cooperation between theatres and art academies, universities, schools and social institutions such as refugee aid organisations.
Austrian nominated playwrights:
Muhammet Ali Bas, Thomas Köck, Azar Mortazavi, Maxi Obexer, Thomas Perle, Volker Schmidt, Gerhild Steinbuch, Bernhard Studlar, Miroslava Svolikova und Robert Woelfl
Austrian Playwrights Dossier
Concept and partner organisations
Project presentation in English
New playwrights (2021):
Amir Gudarzi, Magdalena Schrefel und Lisa Wentz
Activities and events in the framework of "Fabulamundi – Playwriting Europe. Beyond Borders?"
How can you tell a European project like Fabulamundi on video? How can you tell the stories of our 120 authors and their thousands of texts? And of the hundreds of activities carried out to date? "Theatre insight" is about theatre in eight episodes by eight authors. The film is available in its original Italian version with English subtitles: "Theatre insight – Stories from Fabulamundi"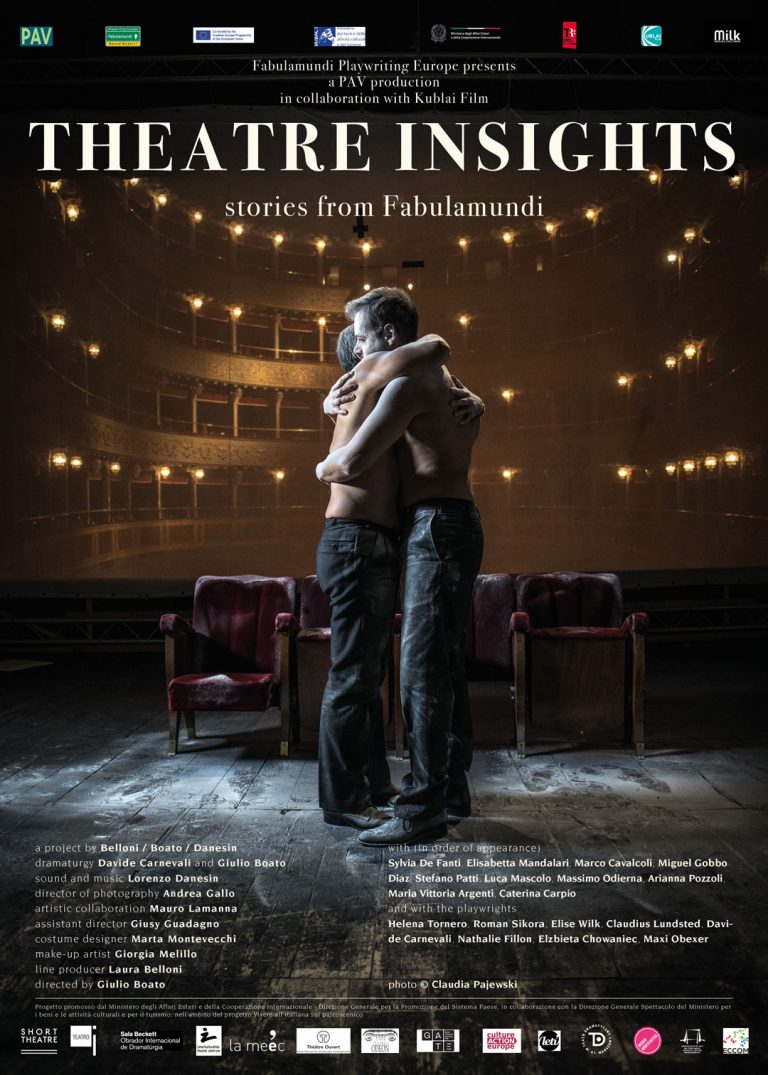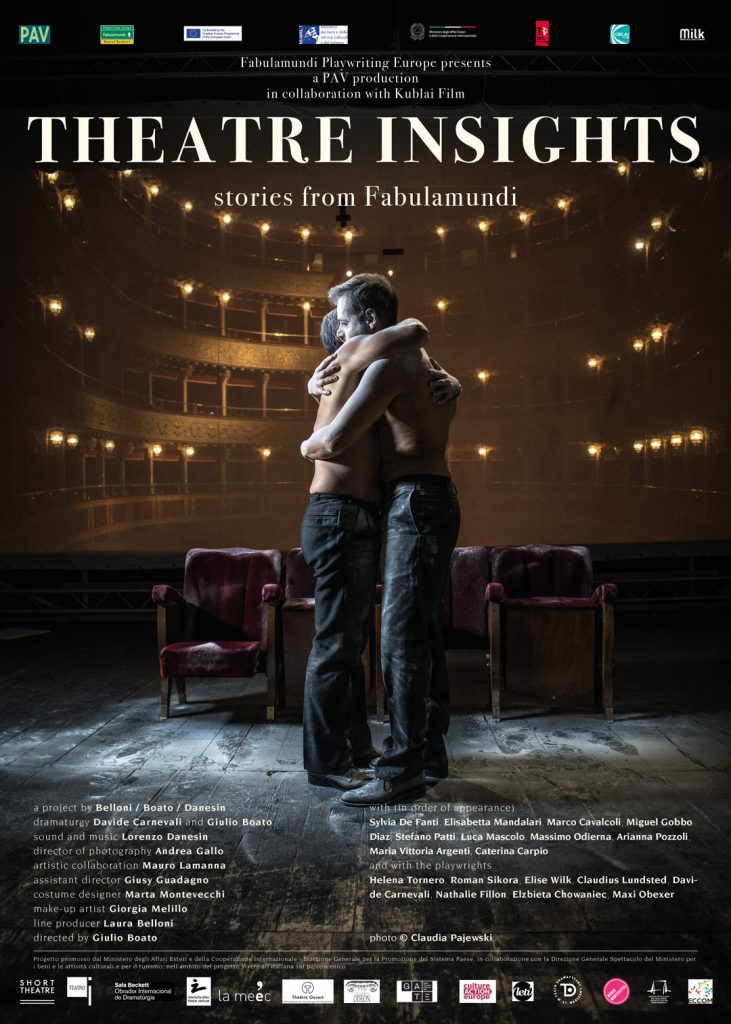 On 21 December 2020, we presented a recording of the staged reading of our international cowriting project "The End of Tolerance" directed by Maria Sendlhofer and Paul Spittler. With texts by Liv Ferracchiati, Nathalie Fillion, Tomasz Man, Josep Maria Miró, Jacinto Lucas Pires, Radu Popescu, Gerhild Steinbuch, Bernhard Studlar.
The e-book with all of the texts in German, English and the respective original versions is available here:

"Entgegnungen" is the heading for 15 new "mini-dramas" by Austrian and European playwrights. Selected texts are available as audio plays. The publication including all texts can be ordered from us.

On November 18 and 19, 2020, we organised the symposium "Female perspectives on contemporary playwriting". European female playwrights from five countries met their Austrian colleagues and discussed artistic, aesthetic, but also everyday and existential aspects of being a female playwright. Theatre professionals and the audience were invited to participate in the discussions.
Covid update: The symposium had to be cancelled, instead online talks took place which were streamed live.
Maxi Obexer, Malgorzata Sikorska-Miszczuk und Jaroslav Rudis wrote three new plays for Kollektivsalon Folge 2 "Anschlussfähig", which were staged at the Burgtheater Kasino on 20 October 2020.
The book "Anschlussfähig" published for this occasion is available from us.
The european festival planned for autumn 2020 in Rome had been adapted to the pandemic situation and took place as Fabulamundi Effects. A European digital storytelling locally in the individual partner countries as well as online.

In august 2020, we were invited to Theaterfestival Hin & Weg in Litschau with the staged reading "Bohemian Paradise" von Jaroslav Rudis .
Anm.: All Fabulamundi events in spring/summer 2020 had to be postponed until further notice due to the Corona pandemic.
"Karpatenflecken" by Thomas Perle was presented in staged reading (translation: Elise Wilk) in February 2020 at the University of Arts in Targu Mures.
Thomas Perle travelled to Targu Mures in January 2020 for a Mob Pro on "Interculturalism and Self-identification" and there met international theatre-makers and writers.
From 12 to 15 December 2019, in cooperation with the United Stages of Bolzano and the Teatro Stabile, we presented a Wordbox: Fabulamundi: a collage of four contemporary plays in the form of staged readings. The German-language texts were read in Italian, the Italian texts in German.
Volker Schmidt's "Textiltrilogie" was shown at 8@8 at Divadlo Leti in Prague.
Azar Mortazavi's play "Among Germans" was presented in staged reading on 20 November 2019 at Teatrul Odeon in Bucharest.
On 18 and 19 October 2019, we presented four plays in staged readings as part of our Wordstatt Nights, including Jaroslav Rudis and Fabrizio Sinisi as participating Fabulamundi authors.
Maxi Obexer was invited to the Festival delle Migrazioni in Turin in September 2019 with her play "Illegal Helpers".
The Sala Beckett in Barcelona presented "paradies fluten (verirrte symphonie)" by Thomas Köck in July 2019 in a staged setting.
In May 2019, we hosted the three-day "Mobility Programme" for playwrights, the "Mob Pro Vienna" on the topic of "The End of Tolerance".
Muhammet Ali Bas completed an author residency at mercati di traiano in Rome in April 2019.
Italian author Fabrizio Sinisi was in Vienna in March 2019 to work on the translation of his play "Holy War".
Volker Schmidt met international colleagues at the Mob Pro on "We and they: on different aspects of cultural narcissisms" in Warsaw in spring 2019.
In March 2019, the teatro i in Milan gave the Italian premiere of "beyond fukuyama" by Thomas Köck.
Azar Mortazavi is part of the team of the Capital of Culture Matera 2019 (Italy), already in December 2018 she travelled to Italy where her play "Zwischenzeit" was presented in a reading accompanied by a workshop at the Theatre Olinda – Teatro La Cucina in Milan.
Miroslava Svolikova and Gerhild Steinbuch participated in the international Mob Pro "Space beyond borders: migration in the future". in Prague in November 2018.
In November 2018, we presented the German-language premiere of Esteve Soler's "Against Freedom (Contra la llibertat)" in the production by Hans Escher.
Robert Woelfl participated in a panel discussion on the topic of translating contemporary drama at the invitation of Teatro i in November 2018.
Bernhard Studlar's play "Nacht ohne Sterne" was performed in a staged reading at the Teatr Dramatyczny in Warsaw in October 2018, where he also held a workshop with Polish playwrights.
Miroslava Svolikova's play "die hockenden" was performed in Berlin in October 2018 and then in at Divadlo Leti in Prague as a reading.
Volker Schmidt's "The Mountain Bikers" was presented at Teatr Dramatyczny in Warsaw and at La mousson d'été 2018 in staged readings.
Maxi Obexer participated in the Mob Pro Rome in September 2018.
Muhammet Ali Bas travelled to Barcelona for a Mob Pro on "After the border: the promised land." to Barcelona and met international theatre makers and writers.
Maxi Obexer's play "Illegal Helpers" was shown at Théâtre Ouvert in Paris in May 2018.
As part of the project, "Schnitzel in Context with Felicia Zeller" took place on 19 May 2018.
In January 2018, the Austrian National Meeting took place, where all international project partners met the Austrian playwrights in Vienna to get to know each other and exchange ideas.
Reports and research studies in the framework of Fabulamundi. Playwriting Europe
The project was scientifically accompanied throughout four years, the results of the two studies are published here:
Margherita Laera: Contemporary Playwriting and Theatre Translation Cultures in Europe: A Report on Current Systems, Conventions and Perceptions
Cristina da Milano: Audience Development within Fabulmundi.
Francois Matrasso, Cristina da Milano: Fabulamundi Mobility Program